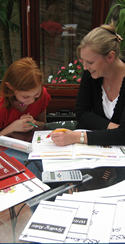 Phone Top Marks

07540 307946
Exam Techniques
Study Skills

We are able to advise on the best way to enable study to take place. We teach organization skills, strategies such as diaries or personal organizers, pocket timetables, weekly planners, homework diaries and usage of notices for the younger student. We also include long term planning, revision cards, revision programmes, appropriate equipment and time scales for studying for the older student.

We teach reading skills (skimming and scanning), note taking & filing, testing & translating and improving speed plus more. We can teach the skills of flow charts, mnemonics, mind maps, video usage, and general data collection, along with essay and report writing, scientific reports, analysis and explanation, and data presentation and interpretation. We can help to improve spelling by using homophones and other strategies.

General Exam Techniques & Past Papers

Examinations are the culmination of studies and are therefore crucially important. We have several adjudicators of exams on our books, who can facilitate students in what to expect, presenting the proper way to address exams, read questions and usage of given time effectively.

We hold many mock examinations for 'A' level, GCSE and SATS and our adjudicators will set mock exams when the student is ready to stop any unnecessary panic before the day.